I AM SORRY, BUT MY QUILTING MACHINE IS OUT OF ORDER FOR NOW.
"

Remember, people will admire your quilts long after you are gone, not your housework…

"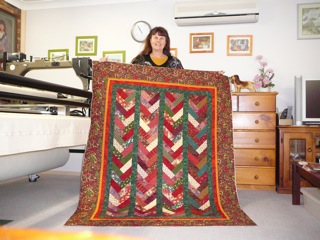 ABOUT ME
I am a fabricholic and a quiltaholic. I love everything to do with fabric, quilts, quilting and patchwork. I have been patchworking since 2004, and in 2007 I purchased a computerized Gammill Optimum long arm quilting machine with Statler Stitcher. Since then I have quilted numerous quilts and UFOs for myself, friends and family. My specialty is edge to edge quilting. I do not offer custom quilting. I have made two trips to the USA and each time I have come home with a suitcase full of fabrics and vintage quilt tops to add to my collection and stash. I have lots of quilts and wall hangings of my own to showcase my quilting, as well as sample designs for you to choose from.
Fabricologist: one who has perfected the art of stashing fabric.

Behind every quilter is a big pile of fabric.